InterGenerational Dialogues Mini Conference 2016
June 15, 2016 @ 10:00

-

15:30

R50.00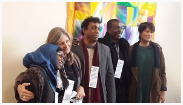 'I See You'
Celebrating Youth Month
Time: 10h00 – 15h30
Registration: R50.00 including refreshments and lunch
Location:  The Novalis Ubuntu Institute
Booking: blessing@novalis.org.za
Join us at the fourth InterGenerational Dialogues Conference were we will seek to create a space for reflection, listening and exchange between generations.  The dialogues are a wonderful tool to assist with personal empowerment, bonding relationships and building community pride.  During the 2015 Dialogues we were privileged to have had four generations represented with ages ranging between 15 and over 80.
The theme for the 2016 InterGenerational Dialogues is 'I See You'.  This reflects our ability to recognise and witness each other's highest potential, acknowledging each other's human right to be part of the 'family of Humankind'
The 2016 Dialogues will include a facilitated process for delegates to witness and be witnessed in the exploration of highest potential to identify and map next steps and long term goals.
The outcome of the conference is to empower community cohesion.  An empowered community is a resilient community.  A resilient community can be a thriving community.
Should you have any further questions about The Novalis Ubuntu Institute's Fourth InterGenerational Dialogues Mini Conference, please contact marianne@novalis.org.za or telephone 021 797 1857.  For bookings please email blessing@novalis.org.za